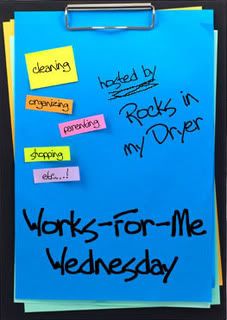 I am sure this is incredibly cheesy of me, but I FINALLY have something for WFMW! And when I realized I did, I was so excited to play along. My hubby wanted me to wait until next week since it is already 10pm here, but OH WELL!! You can check out more ideas at
Shannons
place.
Since I have become the coupon clipping Queen in my house, I also like to save the coupons for some of the places we like to eat out at every now and then. Not that we only eat at places that take coupons, but hey, I like to save money where we can in our seemingly never-ending journey out of debt. However, I am incredibly absentminded (I call it Mom-brain!) and without fail, never bring them with me. And usually when we do eat out, its very spur of the moment. So Monday, on our way to grocery shop, we had been running errands most of the day. And yes, I was clipping coupons in the car while my dh was driving. Maybe not the brightest idea, but I needed it done. I was getting ready to cut up the Quizno's coupons, and there were so many of them I didn't really feel like it. I was sitting there trying to think how to fold it to stick it in my coupon organizer, when my
HUBBY
, yes thats right everyone, my hubby had a BRILLIANT idea! He suggested that I get a folder, gather all the restaurant coupons from the house and keep them in the folder in the car!
Genius!
Now all my restaurant coupons are neatly stashed in a bright stripey folder, within easy access for any craving my little heart desires! And that my friends, Works For ME!!!