With only a few weekends left in the Armpit, we are making to most of them. Which is a little odd considering we don't much like it here. HA! Saturday we did a yard sale that the USO hosted. Its a little difficult to have one at the Posh Casa so we opted to take the USO up on their offer. It was STINKING hot outside, I got nice and toasty. Of course we remember to slather up the kiddos in sunscreen. And tried to make the Princess wear a sun hat, which consequently spent more time in her hand than on her head. So I completely forgot about my own SPF needs. The yard sale was from 9 to 2, but we figured we had made all we were going to make by 1pm. So once I was the color of the Durango (red) we called it a day.
The next day we took a trip down to the beach, I had been hit with a crazy stick apparently and had applied to try out to sing The National Anthem at a professional sporting event. If you all remember, this is a strange dream of mine to do. But it has been about oh 4 years since I have sang in front of a crowd of people. Mind you, this was while being accompanied by music and at least one other person leading worship with me. This audition required singing acapella. In front of people I didn't know.
Not knowing what to expect, we headed down to the local town mall so I could sign myself in. Man, there were a lot of people there, and a line to stand in. Once I got to the table, I had to choose a number. The number that would decide where I was in line. Guess what number I picked. 4. I picked 4.
Which turned out to be a good thing, since had I been any higher up in line, my place would have been occupied by a huge chicken, and then I wouldn't have been there at all! There were some lovely singers there, people who sing professionally, and even some "Child Stars" complete with Mom and Dad-agers.
But OH WAS I NERVOUS. And the bad thing, well it might be a good thing, anyway, I don't get nauseous or throw up when nerves attack. I get REALLY hot, think Hot Flash hot (not that I have any experience in that area, but I can guess.) and then I feel like I am going to burst into tears. And it shows in my voice.
As the Queen of Procrastination, I waffled for a few weeks on what to sing, settled on Amazing Grace, since its fairly simple. Then jumped to Over The Rainbow. And when it came to be my turn, Amazing Grace is what came out of my mouth. I did it, and overcame my fear. Which is great. I didn't make the top 20 this time. Which I had no delusions of happening. However, I know I can do it, and will do it again until hopefully I do get picked to sing it.
From there we decided to hit the beach. I mean it only made sense, after driving an hour and a half, we couldn't just go to a mall and drive home. The boys had a blast, and The Princess had her first experience with sand. Not only that, the firm sand seemed to offer her a little more stability than our carpet and she actually popped up into a standing position once or twice! And like most little ones, a lot of that sand made its way into her mouth. Mmmmmm, nothing like a tasty fistful of sand to tide you over until dinner. Or until you can purchase some Saltwater Taffy.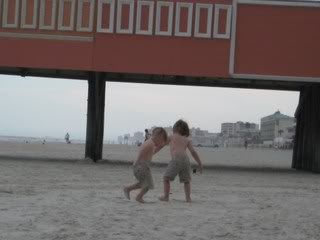 We decided to take the scenic route home. Avoiding a nasty thunderstorm, and finding a big turtle. Hubby spotted the turtle making his way down the side of the road and turned around so he could pick it up. Thank goodness it wasn't a snapping turtle!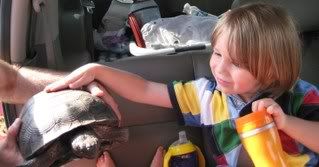 We all had a lot of fun, which is going to have to tide us over for a while. Hubby went out on his boat for 2 days, and once he comes back we are going to try (keyword here is TRY) to start getting some things packed. Our move day has been thrown off because of the ship being "desperately" needed in BARBADOS, and hubby's detachment day falls 4 days into the trip. The XO is trying to make him go, he could detach on July 1st, but then I would have to work fast to get him a passport and then fly him home for a LOT of money. Or wait for him to come back, which could jeopardize our housing.
Then Saturday at the yard sale, I was talking to the President of our FRG (support group) and she informed me our Ombudsman (don't ask me why they are called that, and if you know why, I would love to know!) could possibly get it considered a hardship and get the Captain to let him stay behind! So any prayers would be greatly appreciated!