Well, actually my hubby is!
5 Minutes For Mom
is hosting a Nestles Crunch Kid In You Photo contest. The prize is a Wii, which would be wonderful for us! We are moving to the midwest in about 41 days. (yes I am counting down!) Yesterday hubby mentioned that someone had brought one onto his ship the other day, and it was a lot of fun. We have chosen for the time to be game system free because I just didn't want to get it started. I know how it can suck people in. But since we are moving somewhere that actually gets a LOT of snow, and will probably housebound quite often, I thought we should start looking into getting a Wii so the boys could be active in the too cold to go outside times. So winning this would be perfect!
This is hubby with The Princess, and I think it definitely shows his inner kid, since he gets to be with his baby girl!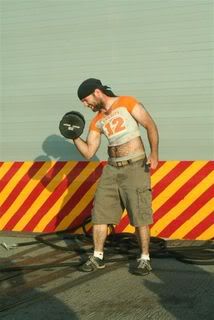 But then I think this a pretty good example of hubby being INCREDIBLY silly! He sent me this photo when he was deployed, he had found the shirt and thought it would make a great photo! I laughed myself silly over that one!