So, I know it has been stinking forever since I have posted my menu plan here. My excuse? Hubby deployed and 3 little ones to take care of. I just didn't have a lot of time and well, you all didn't need to see how much cereal and sandwiches we ate!
But in a renewed effort to really save on groceries and pay down our debt, I am BACK! I shopped at our commissary last week, minus coupons (I hate when that happens!) and I will be shopping the sales this week at the local grocery store to see where we do better. I hope to post my findings after I do a real shopping trip at the commissary armed with my coupons. I am also determined to give the whole CVS ECB a shot again. And will share how I do with that as well.
I used the Grocery Game in the past, which was a wonderful tool, but the commissary doesn't participate with this site.
Ok here is my menu for the week!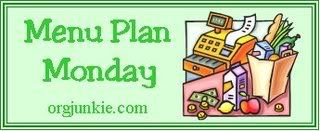 Sunday: Ravioli with Sausage and peppers
Monday: Soft Tacos
Tuesday: Crockpot Beef Stew
Wednesday: Wing it since hubby has duty
Thursday: Grilled Cheese and Tomato soup
Friday: The Infamous Chicken Sandwich and fruit
Saturday: leftovers or sandwiches
Sunday: Italian Meatball Quesadillas
Monday: Roasted Chicken and Veggies
So there you have it! Fairly simple and kid friendly. The Princess wants nothing to do with baby food anymore so I have to think of things she can eat too.