Last week went by so quickly, we barely noticed it around here. And now here I am, and it hit me, I missed Menu Plan Monday! Now in my defense I have been UBER busy around here what with hubby home and all! And I would rather be be busy with hubby home then trying to fill up the days waiting.
Grocery shopping last week went ok, but coupons at the grocery store only got me $2 under shopping at the Commissary without coupons!
Now on to the Menu for the week. I hadn't put a lot of thought into it, until this morning. Since this weekend there is a Cinco De Mayo celebration at the Town Center here, mexican food will DEFINITELY be on the list!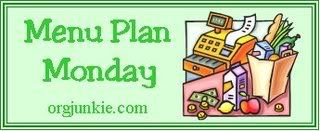 Monday:
Fettucine and Chicken strips, green beans
Tuesday:
Breakfast for dinner
Wednesday:
Grilled Cheese and Tomato Soup
Thursday:
Bacon and Cheddar Stuffed Chicken Breast, Salad, mashed potatoes
Friday:
Wing it, hubby has duty
Saturday:
Enchiritos (enchilada and burrito in one!)
Sunday:
leftovers
Hubby and I might actually get to go out together Saturday night if we can find a sitter. That seems to be a tough thing to do here. Short of calling an agency. Which I think would be last resort for us.
Things are settling into a two parent routine around here. TJ and Little guy LOVE having Daddy home. And The Princess is starting to really want to spend time with him.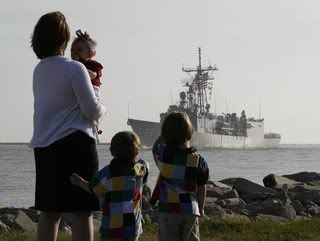 As for the whole wanting to win First Kiss, it didn't really seem to matter this time around. Everything moved fairly quickly without a lot of hoopla! Before we knew it, hubby was off the boat and back where he belongs...