I didn't think I would be looking, no less FINDING a pair of shoes so soon. But I was out shopping the other day, and wandered into Payless shoes. DSW is where I usually go for shoes since I can get Designers for a lot less, so I wasn't really expecting to find anything.
But then these caught my eye....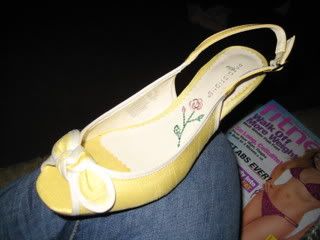 People, THOSE are
THE
shoes! The shoes I am going to wear with my FAB new dress for hubby's homecoming! They add a nice pop of color, I can't wait to find accessories for it. I am thinking a couple of chunky bracelets in white and yellow and then some funky earrings. Any suggestions?
Also it has been brought to my attention that my donate button in the last post doesn't work. So if you feel led to want to send a $1 my way to support my cause to KISS MY HUBBY FIRST!! Then just email me and ask for my address!